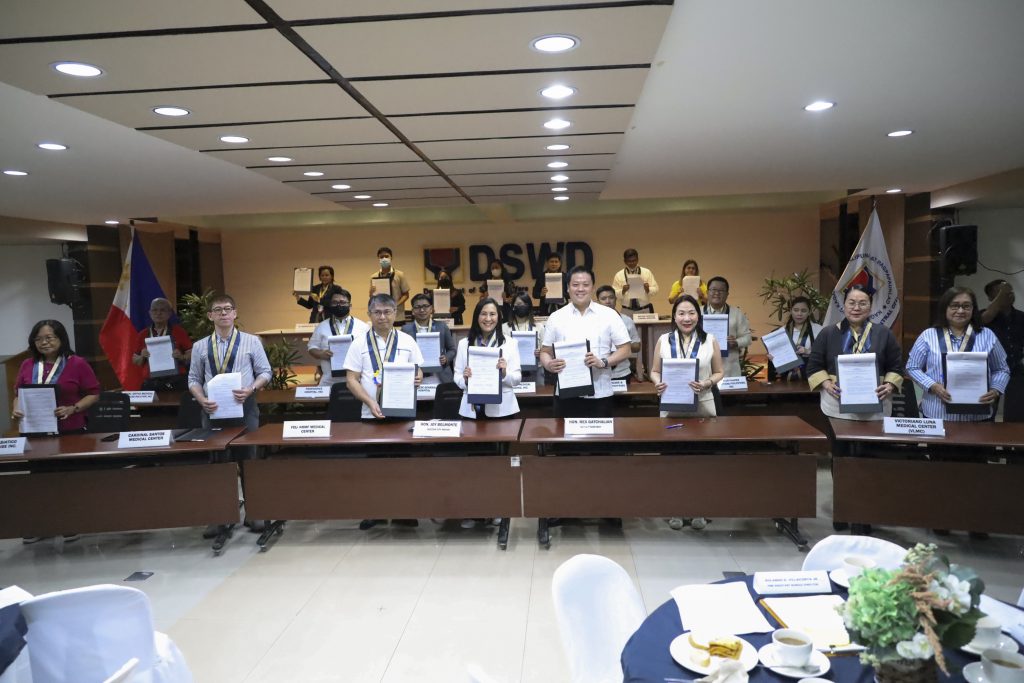 The Department of Social Welfare and Development (DSWD) signed a formal agreement with different service providers on Saturday, (June 3), to help individuals in crisis situation with their medical, hospital and funeral bills.
During the ceremonial signing of the Memorandum of Agreement (MOA ) at the DSWD Central Office in Quezon City, Secretary Rex Gatchalian formalized and strengthened the Department's partnership with 25 hospitals, medical centers, and funeral homes in providing effective and efficient services to the beneficiaries of the DSWD's Assistance to Individuals in Crisis Situation (AICS) program.
Secretary Gatchalian expressed his gratitude to the service providers for partnering with the DSWD in assisting eligible AICS clients with their medical or funeral needs through mutual obligations and responsibilities.
"AICS is becoming a by-word, but AICS won't be as helpful if it weren't for all of you. Thank you for all the services you provide to our clients here in DSWD," the DSWD chief said.
Under the agreement, the service providers committed to recognizing the duly approved and authenticated guarantee letter from the DSWD to cover the cost of hospitalizations, medicines, assistive devices, as well as burial and funeral expenses requested by the AICS clients.
The DSWD will ensure that it has funds available for the services that will be granted or rendered by the service providers to the AICS beneficiaries.
DSWD Operations Group Undersecretary Monina Josefina H. Romualdez pointed out that the Department provided financial assistance amounting to more than Php 651 million in the form of guarantee letters in 2022.
The MOA also brings assurance to the public that all individuals or families in crisis situation, regardless of their patient category, whether private or service patients, will be provided with all services covered by the amount and other procedures stated in the guarantee letters issued by the DSWD.
Quezon City Mayor Joy Belmonte expressed her gratitude to the DSWD and the participating service providers for declaring their support of the program that will assist the City's constituents.
"Sa pamamagitan ng pagbibigay ng guarantee letter, tatanggapin ninyo at aasikasuhin ninyo ang aming mga constituents, lalong lalo na ang mga galing sa mahirap na pamilya (Through the Guarantee Letter, you will accept and take care of our constituents, especially those from poor and marginalized families)," Mayor Belmonte said.
The medic al service providers present in the MOA signing include Globo Asiatico Enterprises Inc., Chinese General Hospital, Cardinal Santos Medical Center, FEU-Dr. Nicanor Reyes Medical Foundation Medical Center, Total Ortho Medical Supplies Solution Inc., Ossium Medical Supplies Solution Inc., Mediclive Surgical Instruments Inc., DBK Medical Supplies Ltd. Co, SGG Orthocare and Medical Enterprise and Camarin Doctors Hospital.
Also present were representatives from MJ Funeral Homes, Nieto Funeral Homes, Quezon City General Hospital, Providence Hospital, Interpharma Solutions Philippines Inc., BVL Funeral Homes, Al Buenavista Enterprises Incorporated, Victoriano Luna Medical Center, Metro North Medical Center Hospital, Rosario Maclang Bautista General Hospital, Ace Medical Center-Pateros, Diliman Doctors Hospital, Novaliches District Hospital, Nugen Hearing Devices Inc., Partners Choice Inc., and 1Life Inc. #